New Video: Milky Dance-Off with Rina and Vanessa!


Rina and Vanessa dance and lactate all over the place! Rina gives Vanessa a lap dance. She puts her cleavage around her head and bounces on Vanessa's massive tits. Then Rina gives Vanessa a lap dance back. While Vanessa moves her body Rina grabs boobs, ass and spanks her with her own tits. Both girls dance at the same time, shaking their huge knockers together rhythmically. Their tits start lactating and they continue to wobble their chest meat. Vanessa kneels on the floor below Rina and lets her shower her tits with milk! Finally they both get on the milk soaked floor and play with their tit-cum!
New Video: Jerk Off with Tiana!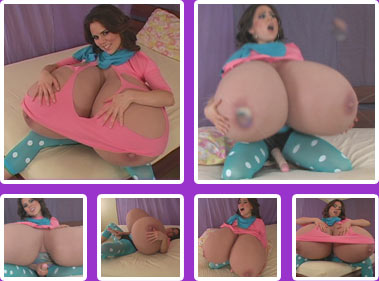 Tiana is alone with you and she is horny! She gropes her tits while she tells you to stroke your hard dick! She tells you to rub her tits and cum on her juggs! She rubs her pussy through her tights and moans for you. She lifts up her tits revealing a strap-on dildo, which she jacks off too as if it was her own dick! All the dirty talk gets her really hot and her tits squirt loads of milk. She bounces on the bed, making her tits wobble up and down as she lactates profusely!



Rina & Vanessa Jiggle their Juggs!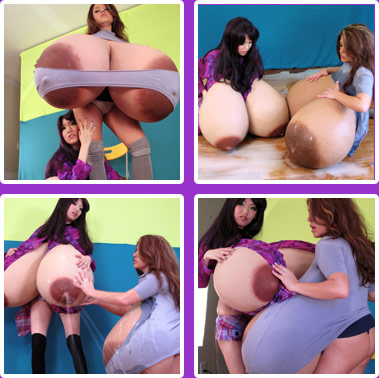 New photos of Rina and Janeen wobbling around with their extra large milk sacs have been added!
Video Repost!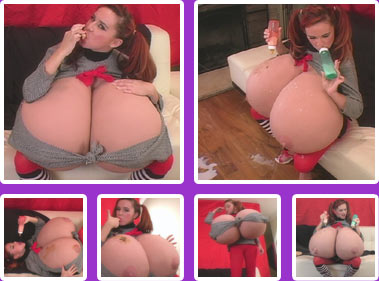 Janeen slurps down some baby bottles while she makes some milk of her own!

Janeen Masturbates with her Vibrator!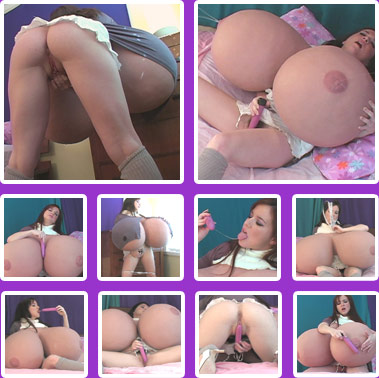 Janeen is horny and alone in her bedroom. She starts immediately playing with her pussy and her milk-leaking tits! She bends over, stretches her pussy out and spanks it! She rubs her nipples and mashes her boobs together. She wets a vibrator with her saliva, uses it on her nipples and tit fucks her cleavage. She feverishly rubs the vibrator in her cunt. When she reaches orgasm she screams and quivers in uncontrollable ecstasy as milk blasts out of her nipples! She then puts her wet panties over her face to smell and lick them. Finally she lays back as milk still spurts from her tits!

Tiana is Stacked with a Strap-On!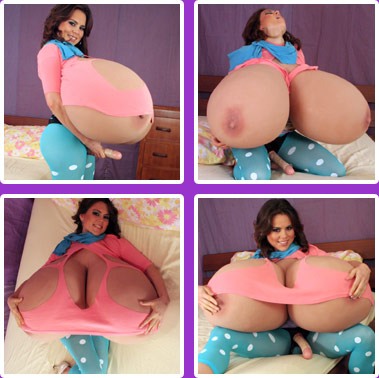 New photos of Tiana and her giant mounds have been added!
Video Repost!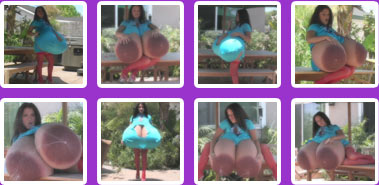 Vanessa takes a smoke and milk break on a hot day!

New Video: Vanessa & Rina Cream their Cleavage!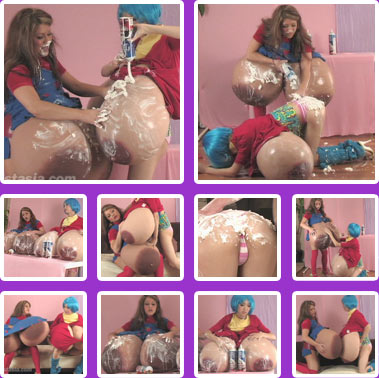 Vanessa and Rina bump their boobs together playfully, and slam their racks on each other. They straddle each others boobs and dry hump them. Then they smack their tits against one another. They shake up some canned whip cream and wobble their juggs in the process. They cream their titties and rub their faces in the mess! Finally they lactate profusely while they rub their hooters all over with cream!

Janeen Pleasures her Tits & Pussy!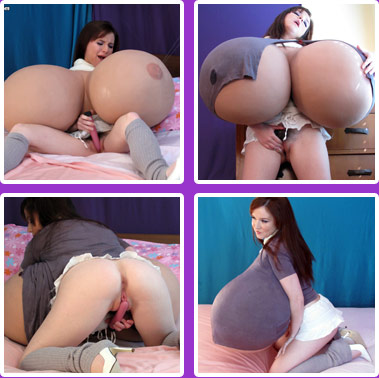 New photos of Janeen playing with her giant mammaries and wet pussy using her pink vibrator!
Video Repost!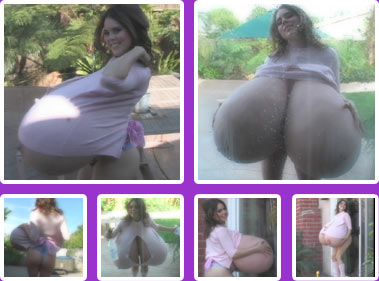 Tiana wobbles and washes her round rack on the glass!

New Video: Rachel & Bianca's Vicious Tittie Fight!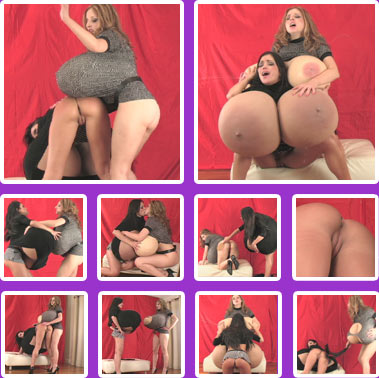 Rachel and Bianca have an all out boobie brawl that turns into a passionate milk fest! The two busty babes have a heated exchange which turns into a tit pushing match. Bianca throws Rachel down and procedes to whip and spank her! Rachel returns the favor and spanks Bianca back. They fight some more but this time they start violently kissing. They take their tits out and continue making out with passion. Finally Bianca gets Rachel's head between her hooters and they lactating together as they moan in ecstasy!

New Photos: Vanessa & Rina Cream Themselves!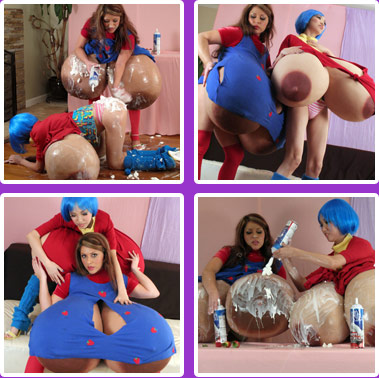 New photos of Rina & Vanessa getting messy with milk and cream have been added!
Video Repost!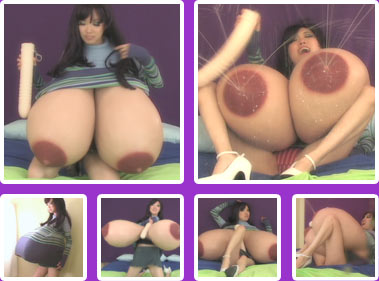 Rina plays with her favorite dildo and creates milk mayhem in bed!

New Video: Janeen Casts a Spell on Rina's Rack!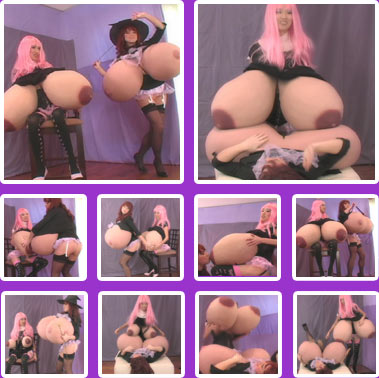 Janeen seduces Rina by rubbing her boobs and butt on her bosom. She sucks Rina's nipple and then ties her up with a rope. Rina goes along with it thinking it's just bondage play, but then Janeen turns into a witch. She wobbles her juggs and casts a spell on Rina's tits making them turn small again! Rina struggles tied up as Janeen makes fun of Rina's small hooters. Suddenly Rina breaks free and smacks and mashes her tits on top of Janeen! The spell gets broken and Rina's tits transform into massive udders again!

Rachel & Bianca Play Rough with their Racks!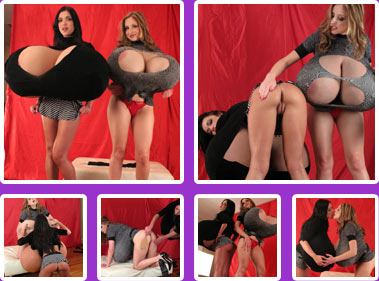 New photos of Rachel & Bianca spanking, sucking, and making out!
Video Repost!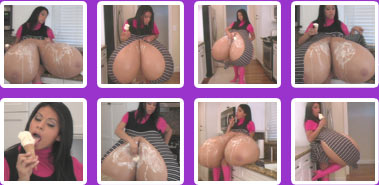 Monica and her maximum cleavage are steaming hot and needs to cool herself down with some messy ice cream!

Video: Vanessa Smokes, Milks & Degrades You!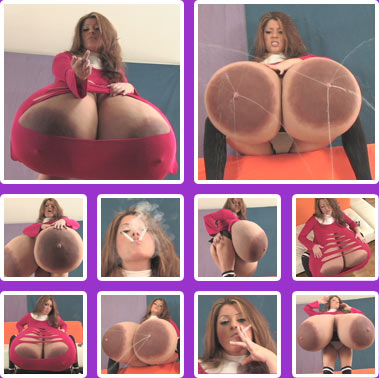 Vanessa knows how you love being degraded and teased by her. She orders you to kneel before her and starts calling you names. She curses and insults you all while showing off her giant rack. She lights up several cigarettes and blows smoke in your face and ashes on you. She flaunts her cleavage and areolas, squeezing her tits while moaning! She shakes her naked whoppers in your face and laughs at your small dick because it can't fuck her cleavage. She gives you a milk shower and orders you to lick the milk off her nipples!

Rina & Janeen in Wobblers & Witchery!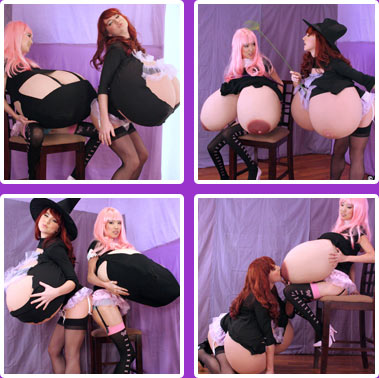 New photos of Rina having a magical boobie battle with Janeen the evil tit witch!
Video Repost!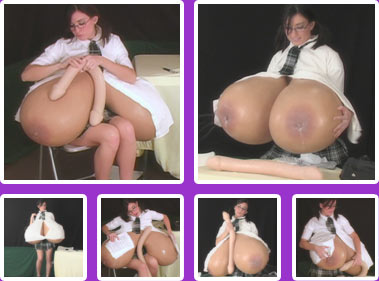 School girl Mindy plays with a huge double-sided dildo!

New Video: Tiana & Janeen Hump Hooters in Bed!


Tiana and Janeen are alone in the bedroom. They waste no time getting it on, passionately kissing and sucking nipples! Janeen spreads Tiana's legs and rubs one of her huge tits against Tiana's naked pussy! They both grunt and moan in pleasure as Janeen straddles Tiana and rides her. They hump their tits together in ecstasy and then do the same with their asses! They scissor legs and hump pussies and lactate all over each other! Tiana gets on top and mashes her milking boobs against Janeen's juggs. They squirt the milk, rub boobies and moan lustfully all night long!

Vanessa Looking Slutty & Smoking!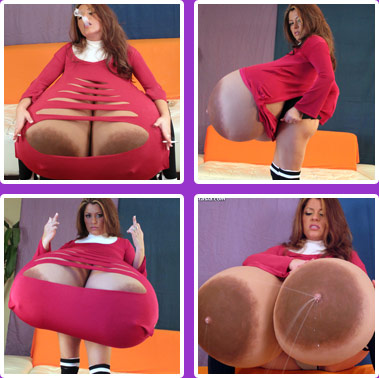 New photos of red-hot Vanessa smoking in your face and flipping you off!
Video Repost!


Vanessa blows up balloons and plays with her juggs!

New Video: Monica's Massive Mammary Mardi Gras!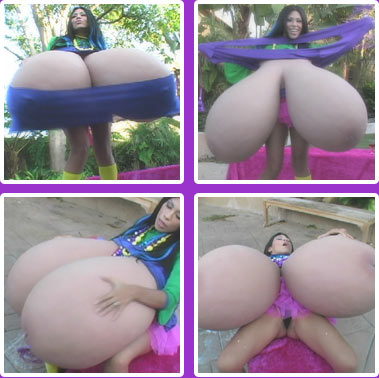 Monica and her giant juggs are celebrating Mardi Gras Mastasia style! She dances and wobbles her mega mamms around as the camera views them from all angles! She pulls off her top and lets her naked whoppers move free as she struts her body. She caressed and gropes her super udders as milk gushes from them. She lies down and lets her milk erupt like giant twin volcanoes!

Janeen & Tiana Rub Titties in Bed!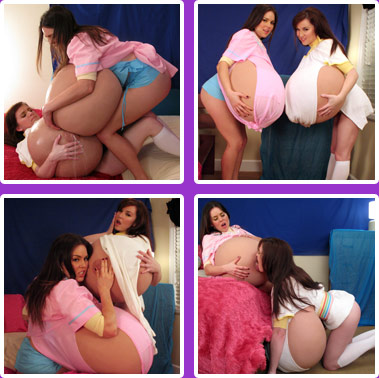 New photos of Janeen & Tiana in bed playing with the giant bosoms!
Video Repost!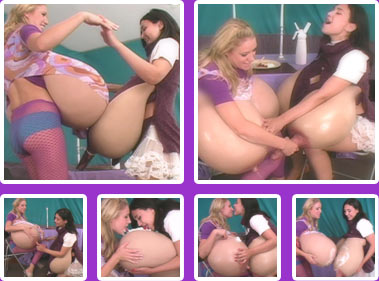 Nikki and Stefani are on a romantic date with each other's hooters!

New Video: Vanessa & Rina, Massive Milk Maidens!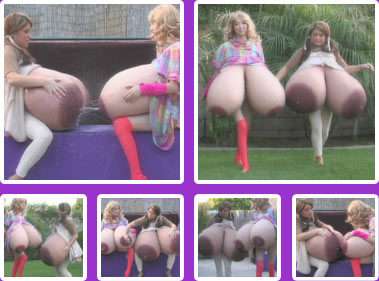 Vanessa and Rina are the best of bosom buddies. They walk hand in hand with their giant udders wobbling in their shirts. They take out their juggs and let them sway free as they skip around. Their hooters bump into each other with each step. They face each other and have a boob battle, slapping their whoppers together. They sit down to rest and play with each other and without noticing, their tits start dripping and spraying milk! When they finally realize it, they wobble their mamms together while milk gushes from their titties! They turn to each other and lactate all over each other, and rub their giant milky tits together!

Monica's Mammarrific Mardi Gras!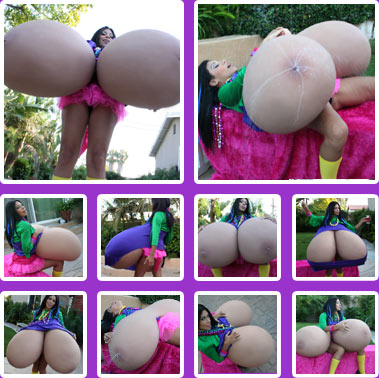 New photos of Monica flashing her massive mammaries!
Video Repost!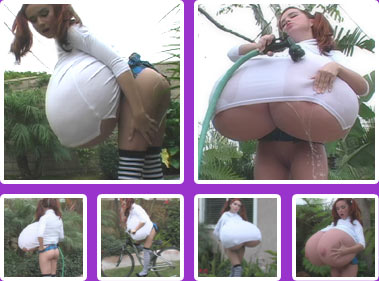 Janeen's debut video! Watch her wet her wobblers and show off her ass!

Video: Janeen the Sexy Kitty Slurps her Own Milk!


Janeen the feline wakes from a nap to stretch and clean herself. She licks her paws, sucks her fingers and washes her body with her own saliva! Her master throws her a toy mouse that she pounces on with her giant tits! Her master then teases her with a furry tail which she tries to grab in between her cleavage. She swipes at it and her naked whoppers wobble wildly! After working up an appetite she squeezes her udders and lactates into a feeding bowl. Then she gets down and slurps up her own milk!

Rina & Vanessa's Enormous Tittie Milk Fest!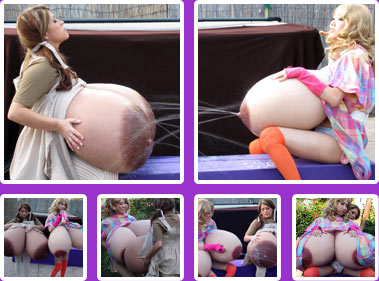 Photos of sultry Vanessa and busty Rina having a milk fight!
Video Repost!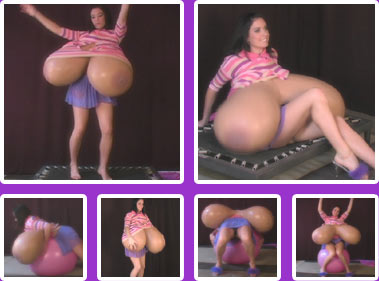 Mindy bounces and wobbles her bulging milk sacks!

New Video: Tiana Works Out her Milking Whoppers!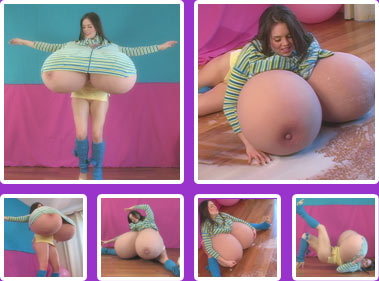 Tiana exercises her titties and makes a milky mess! She starts off using weights and doing jumping jacks making her massive rack bounce! She twists and turns jutting out her blimpy boobs! She gets on the floor to do stretches and arches her back making her tits point up like torpedoes. She opens her legs and puts her juggs in between. Milk shoots across the floor as she gropes and squeezes the tit-jizz out of her fun bags. She gets on her back and lactates straight up like twin volcanoes. After she's done milking her mams, she slides and plays in her own milk!

Janeen the Busty, Milk Slurping Cat!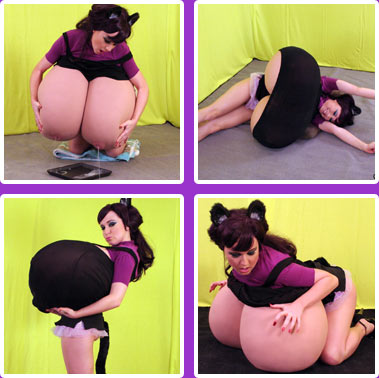 New photos of Janeen acting like a milk thirsty feline!
Video Repost!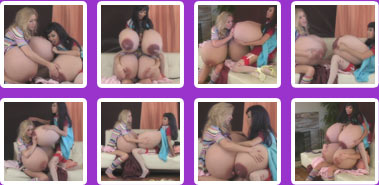 Stefani takes advantage of poor little Rina, the story continues!

New Video: Rachel and Bianca Milk Boobies in Bed!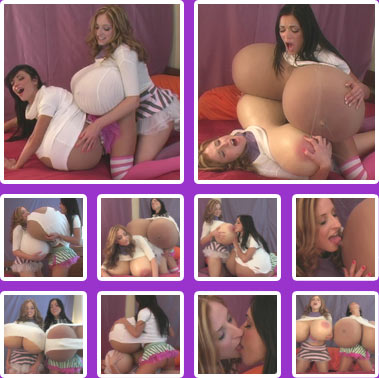 Rachel and Bianca are supposed to be studying for a test but instead they play with their boobs in bed! They bump and mash their tits together and giggle girlishly. They talk and brag about their boobs while they touch and grope. They have boobie battle, give each other tittie massages, rub & spank boobs on asses, suck each others nipples, make-out and hump doggy style. They start lactating as they push and hump their juggs together! They milk & moan, side by side!

Tina Works Out her Wobblers!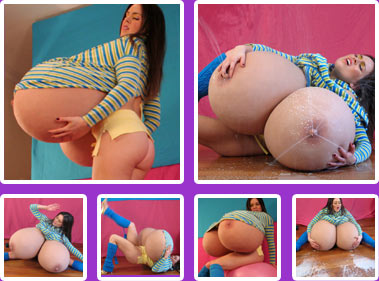 New photos of Tiana exercising her humongous knockers have been added!
Video Repost!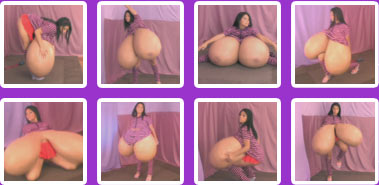 More workout action with Monica and her massive mamms!

New Video: Vanessa Milks her Slave Rina!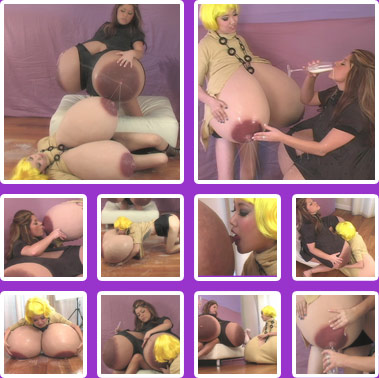 Vanessa orders her slave Rina to clean up her milk leaking tits! Rina does so with a rag but Vanessa orders her to lick and suck her nipples clean! Vanessa has Rina bury her head in her cleavage and squeezes her titties together! Vanessa orders Rina to stand up and give her a hooter-shaking show. While Rina wobbles her knockers Vanessa rips Rina's shirt off and starts sucking her udders! After a good sucking session, Vanessa gets thirsty, so she squeezes milk out of Rina's mammaries into a goblet and drinks it up while Rina continues spraying milk on her! Then Rina lies on the floor and Vanessa lactates all over her! Vanessa orders her to wallow and play in her milk puddles!

Bianca & Rachel Play with their Tits in Bed!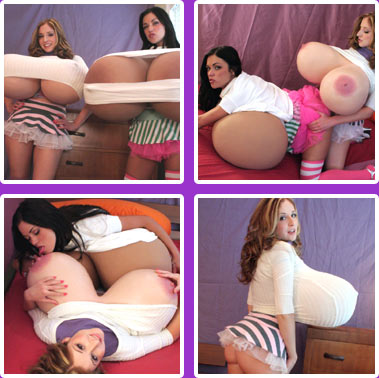 New photos of Bianca & Rachel licking, bouncing and milking in bed!
Video Repost!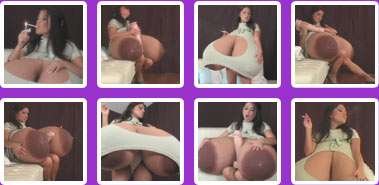 Vanessa plays with a giant rubber cock and lights up her cigarettes!

New Video: Popsicle Playing & Pussy Milking!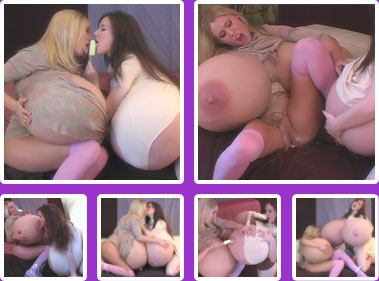 Stefani and Janeen lick a popsicle together and take turns sucking on it like a cock! They smear their nipples with it and lick it off. Then Janeen bites off a chunk and they pass it back and forth between their mouths while they sloppily french kiss each other! This gets Janeen so hot that she starts humping Stefani's tit until her boobs squirt milk! Stefani opens her legs to let Janeen spray her pussy with warm tit-juice! This makes Stefani's tits lactate too! Janeen squirts milk in Stefani's thirsty mouth! They spray milk all over their tits and rub boobies! Super steamy girl on girl action!

Rina is Vanessa's Slutty Milk Servant!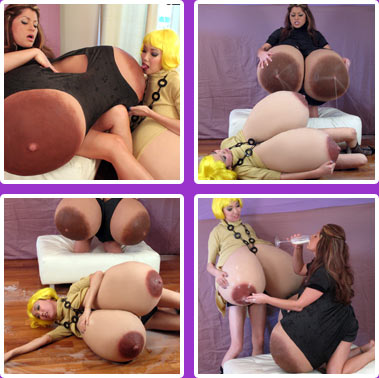 New photos of Rina & Vanessa sucking, licking, and milking each other!
Video Repost!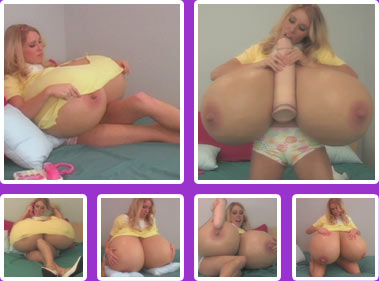 Stefani is alone is bed and horny as hell!

Video: Tiana's Degrading Small Penis Humiliation!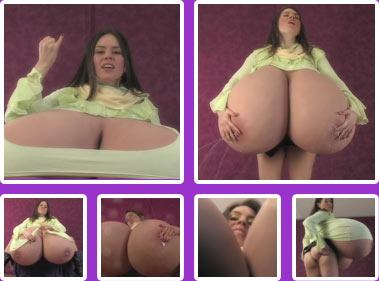 Tiana is horny and tells you to take out your dick. "Ziiip" out comes your package... but she is not impressed, in fact she is pissed off that your dick is so small! She cusses at you and makes fun of your tiny cock! She teases you with her tits and ass but says you can't touch because your dick is too tiny! She lets you suck her milky nipple and orders you in her cleavage. She milks all over your face and forces you to lick up her milk off the floor while she steps on your head!

Stefani & Janeen Lustfully Lick & Kiss!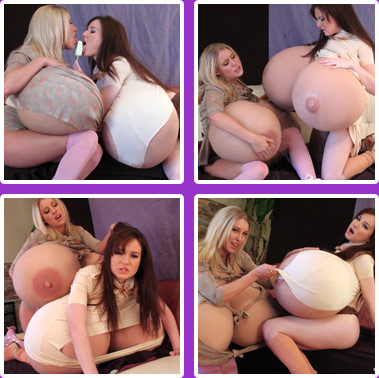 New photos of Janeen & Stefani lick a popsicle, kiss sensuously, and milk all over each other!
Video Repost!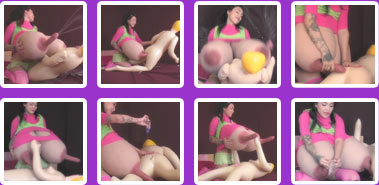 Nikki nipple fucks her blow up doll!

New Video: Stefani Hunts Down Vanessa's Hooters!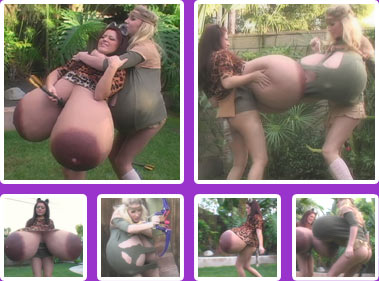 Stefani hides in the brush waiting for the perfect moment to shoot her prey. Vanessa comes innocently wandering thru the prairie unknowing the danger that awaits her. Stefani launches her arrows several times until she hits Vanessa in the cleavage. Even though she's wounded Vanessa defends herself with her hooters! The two have an epic booby battle until Vanessa pounces on Stefani with her tits!

Tiana Teases & Taunts You with her Tankers!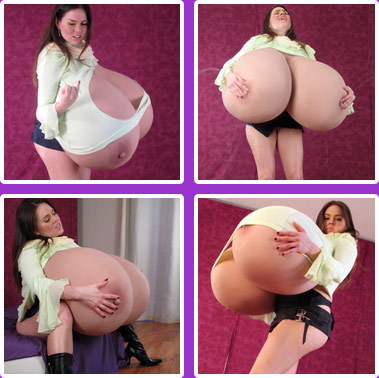 New photos of Tiana looking down on you while showing off her knockers have been added!
Video Repost!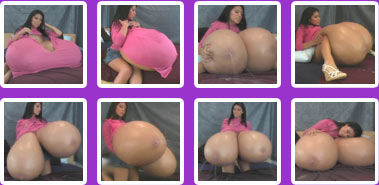 Monica's mega-mammary debut video!

New Video: Rina gets off her Rockets with a Racket!


Rina practices her tennis swing but her wobbling udders keep getting her off balance! She sticks the racket in her cleavage and swings her juggs! She takes out her naked tits and runs around making them bounce even more! She sits down and tit-fucks her cleavage with the racket! Then she rubs the handle on her crotch and her hooters explode with blasting milk streams!

Stefani Goes Hunting for Vanessa's Hooters!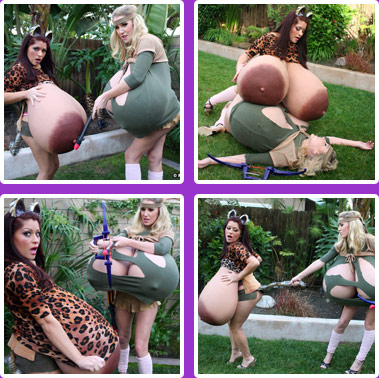 New photos of Stefani the huntress & Vanessa her hootered prey have been added!

New Video: Rachel Wants You to Jerk on her Juggs!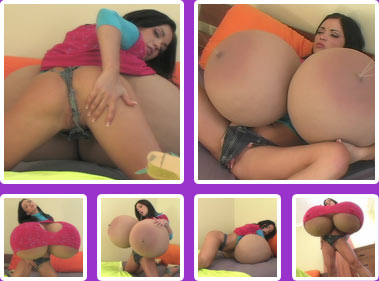 Our newest model Rachel Roundrack loves showing off her hot body and talking dirty to you! She doesn't hold back her sexual angst and sticks her ass out to tease you. She rubs and jiggles her titties, and tells you to stick your cock in her tits! She gets on all fours doggy style and wiggles her ass inviting you to fuck her! She finally plays with her pussy and has a loud moaning orgasm while her tits spray lots of milk!

Rina Plays Tennis with her Titanic Titties!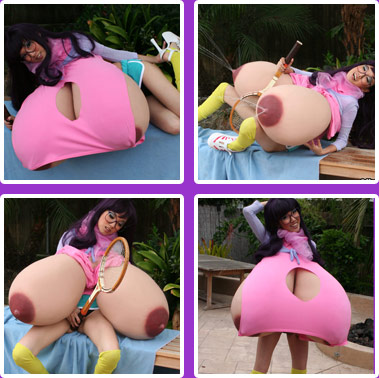 New photos of Rina and her rockets getting naughty with a racket have been added!
Video Repost!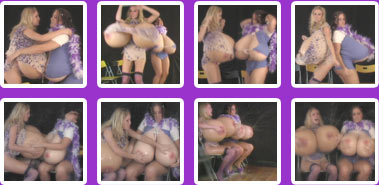 Stefani & Holly bump hooters and milk at the dance!

New Video: Monica and Vanessa rub their boobies!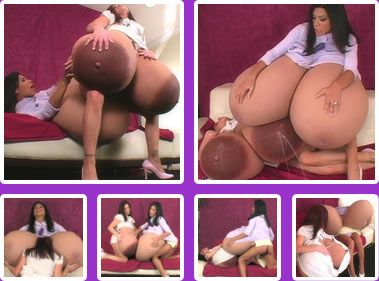 Monica rubs her hooters all over sleeping Vanessa and tells her to wake up! She gets up and the two friends talk, touch and admire each others massive tits! Then they mash their chest floppers together and moan in pleasure! Vanessa sits on one of Monica's tits and rides it! Monica smothers Vanessa's latating tits and then smothers her head in her own squirting knockers!

New Model: Introducing Rachel Roundrack!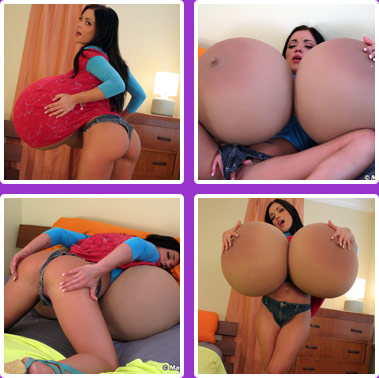 Feast your eyes on the beautiful and boobiful Rachel Roundrack! This buxom brunette has big round boobs as well as a big round ass and she isn't afraid to flaunt it. A new photo gallery of Ms. Roundrack has been added with her debut video to come shortly.

New Video: Stefani and Bianca go Candy Crazy!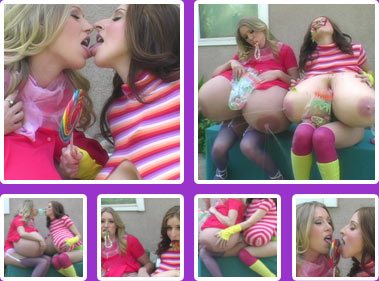 Stefani and Bianca have a sweet tooth for candy. They sit eagerly licking lollypops together. They lustfully share the same one, licking like it was a dick. In between licks they lick and kiss tenderly. Then they chew bubblegum and blow bubbles, which they playfully smash together. Then they go crazy and stuff wads of candy into their greedy mouths as they lactate profusely!

Vanessa & Monica's Titanic Tittie Fun!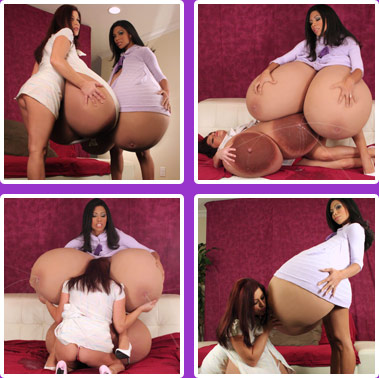 New photos of Vanessa & Monica's supersized ta-tas have been added!
Video Repost!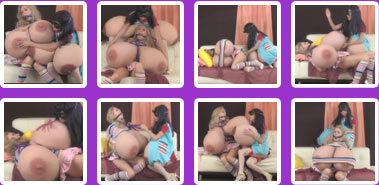 Stefani gets it on with Rina's cleavage!

New Video: Tiana & Janeen Smoke and get Drunk!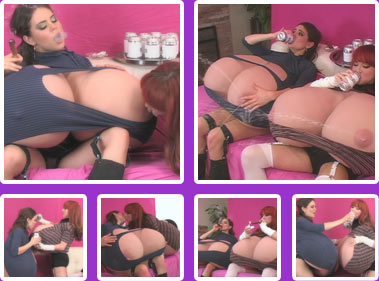 Tiana and Janeen binge and party! They start smoking two cigarettes each at the same time! That's not enough for them, so they light up fat cigars and blow smoke in each others faces! They starting drinking beers and get totally wasted! They pour beer on their tits and lick it up! They make out while Tiana lactates profusely. In the end they pound beers while their tits explode with milk!

Bianca & Stefani Stuff Candy Down Their Cleavage!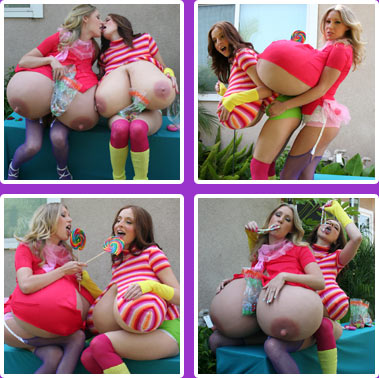 New photos of Bianca & Stefani looking extra-busty in neon!

New Video: Holly Shakes her Ass and Milks her Tits!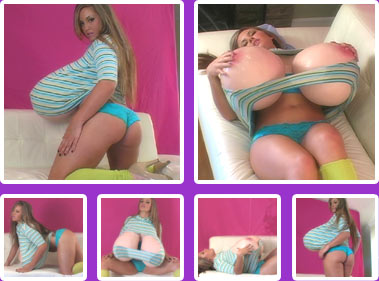 Holly has great ass and knows how to use it! She shakes her ass and plays with her panties! She gropes her tits and gives the camera the 'fuck me' stare! She sticks her ass out as if she's begging to be fucked doggy style. She lactates through her shirt and shakes her milky tits! Lying down, her tits erupt like geysers and her milk streams hit the ceiling!

Tiana & Janeen's Boobie Binge!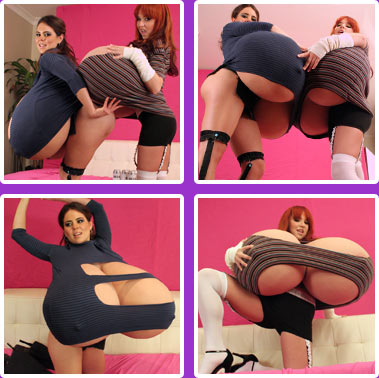 New photos of Tiana & Janeen looking boozing with their extra large boobies!
Video Repost!


Nikki's dick nipples dangle as she sweeps!

New Video: Jack Off with Vanessa!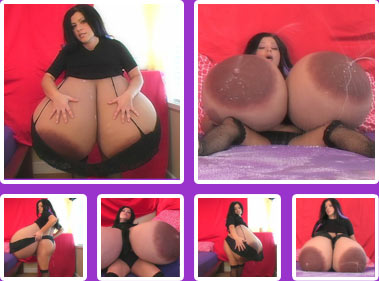 Vanessa wears lingerie exposing her giant mega tits for you to jack-off to! She orders you to jerk off on her tits and in her mouth! She turns around to show off her ass. She lies in bed with her legs open and tells you to titty-fuck her! She gets so aroused that she lactates all over the bed while moaning loudly!

Holly's Luscious Boobies and Bootie!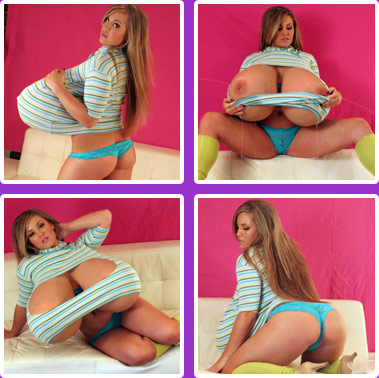 New photos of Holly showing off her hot tits and ass have been added!

Note: Old videos get rotated offline
and can be purchase at radrotica.com