12-05-07 New Photos!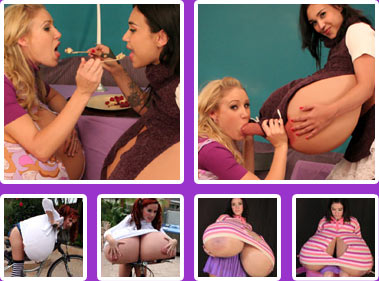 Nikki Nipplicious and her huge sausage nipples are back! See Nikki and Stefani team up for some hot girl on girl action! Also more photos of Janeen and Mindy!

Video Repost!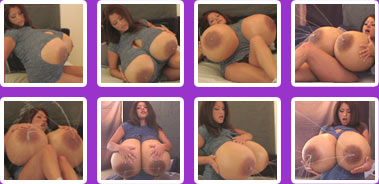 Vanessa floods the bed with milk! This one is a mega-milker!

12-02-07 New Video!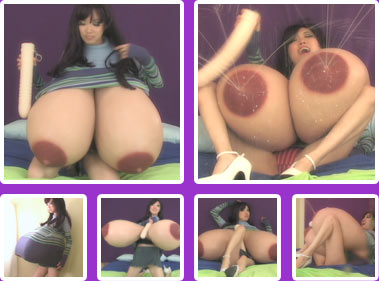 Rina is making her bed but her hooters keep getting in the way... so she decides to take out her dildo and play! She hops on the bed and begins abusing herself by wacking and poking the rubber cock into her tit-flesh! Then she crams the dildo deep into her cleavage and humps her boobs against it! Then she gets on her knees and swings her whoppers from side to side. Eventually she starts rubbing the dildo against her sensitive nipples, this causes her tits to erupt with milk! One of the milkiest scenes ever!

11-28-07 New Model!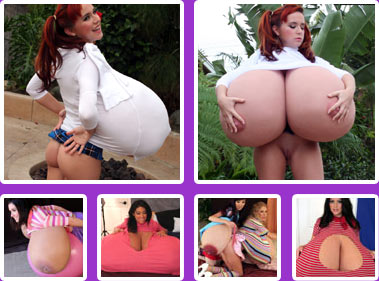 Introducing the stupendously stacked Janeen Juggston! She's a red head with a fiery sex drive, smoking hot ass and super suckable puffy nipples! See her round, jutting, jumbo juggs as well as her clean shaven pussy in her new photos! Also new photos of Mindy, Monica, Vanessa, and Rina!

11-25-07 New Video!


Monica and Stefani play a vigorous game of Tit-tetherball! The two girls boob bounce the ball back and forth. Neither of them is actually trying to win, they just enjoy wobbling their giant fun-bags together! While swinging her massive udders, Monica stumbles and loses her balance a few times! After the game the two girlies hold hands and walk side by side, while their hooters seem to almost dance in their shirts. Later on it gets hot, so the couple takes out an ice sculpture of a penis... they waste no time licking and sucking it too cool off. This of course gets them horny, so they both begin playing wth their tits and orgasmically squirting milk together!

11-21-07 New Photos!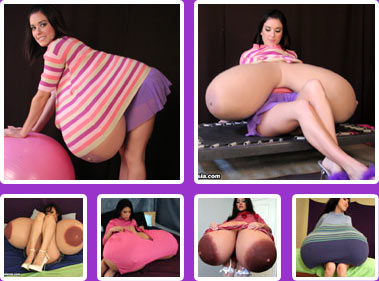 A new photo gallery of Mindy Mt. Everchest has been added!
...as well as new photos of Rina, Monica, and Vanessa!
New photos are now much larger in size! Most future photos will be this big for your viewing pleasure!

Video Repost!



Holly looks sexier than ever and shakes her titties in bed!

11-18-07 New Video!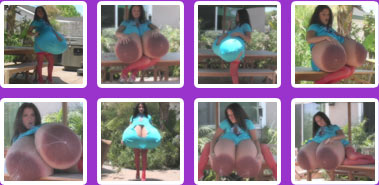 Vanessa walks outside with her tits jiggling in her tight silky dress. Wanting to unwind, she lights a cigarette and blows smoke, while we view her awesome bosom from several different angles! She gently runs her hands over her clothed chest meat... this inevitably makes her start heavily petting and squeezing her squishy milkers! Her tits flop out and she gropes her fun flesh more! She lies down and mashing her tits together against the table until milk is forced out! Laying in this relaxed position she gropes and milks herself, while making a lot of lustful eye contact with the camera! She finally puts her tits between her legs and empties her jugs!
New Photos!



New photos of Monica, Vanessa, and Rina have been added!

11-10-07 New Video!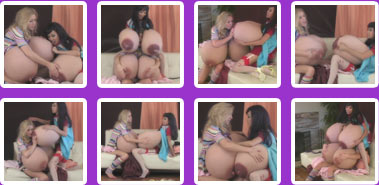 After Rina is unmasked, the two girls can't keep their hands off each other. They kiss tenderly & take turns licking each other's bosoms. Then they bump and mash their hooters together in a giggly, playful manner. This of course makes their tits lactate, so they shower each other with fountains of milk. Stefani grabs Rina's rockets and makes her bounce up down as if she were humping the couch, all while tit-jizz spews everywhere. Then Rina takes control & engulfs Stefani's head deep in her cleavage while she whips her whoppers. Stefani moans loudly as the girls cum in unison!

New Photos!


New photos of Vanessa, Rina, and Monica have been added. Stefani also makes her cameo again.
Video Repost!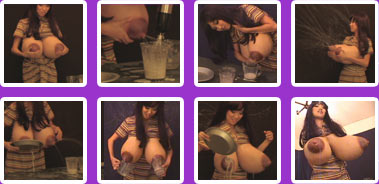 Rina lactates profusely filling up cups full of dairy goodness!

11-02-07 New Video!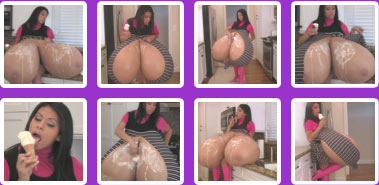 Monica struts into the kitchen with an ice cream cone. She licks and mouths the creamy desert sexily as a few drops fall on her huge mammaries. She likes her tits dripping with sticky white stuff so she spits and drools gobs of ice cream onto her cleavage. This only makes her want to get messier, so she runs the whole ice cream cone all over her hooters. She sits up on the counter where she continues to paint her jugs white with cream as she squeezes, shakes & gropes her massive mega-boobs! Messy huge-tit mayhem!
New Photos!



New photos of Monica, Vanessa, and Rina have been added!

10-26-07 New Video!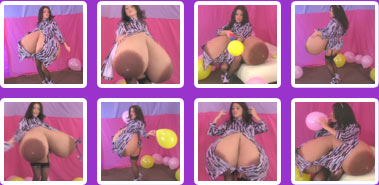 Vanessa is itching to party so she decides to inflate some big round balloons. She sensually blows into a balloon but eventually resorts to jacking off a hand pump instead. One of her balloons flies away so she gets frustrated and kicks the balloons in a tantrum. The kicking makes her titties wobble. She forgets about the balloons and starts enjoying her own chest bags bouncing out of control! She dances the night away and her giant juggs jiggle joyously!
New Photos!



New photos of Rina, Vanessa, and Monica have been added!
Video Repost!


Stefani Vacuums, wobbles her jugs and milks the carpet!

10-21-07 New Video!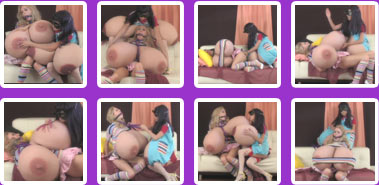 Rina (AKA "The Masked Tittie Bandit") stumbles upon Stefani sleeping and quickly ties her up, while the victimized blonde squirms in fear. Rina immediately begins taking advantage of Stefani by petting, playing and punishing her ample chest meat. Rina spanks and gropes Stefani's milk sacks, as well as sucks, and fondles her sensitive nipples.... then boob mashes Stefani's head in between her enormous knockers! Amidst the domination Stefani begins leaking milk and seems to actually take pleasure in her torment! So much happens that the scene had to be split into two parts! Part 2 will come in another update.
New Photos!



New photos of Vanessa, Monica, and Rina have been added!

10-13-07 New Video!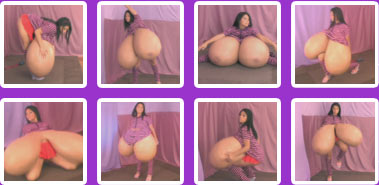 Behind those titanic whoppers Monica actually has a rockin' body, and she likes to keep it in shape. Watch her squat, bend, pull and exercise while her heavy hangers swing, bounce and wobble around! Her milk-sacks dangle past her knees as she works out her arms! As she bends over reaching for the floor her boobs hang down and touch her toes! When she sits down on the floor to stretch, her chest-bags lay out like two beached whales! She even knees her knockers up and down as if they were soccer balls! She ends her session by using her legs to clap her jugs together!
New Photos!



New photos of Rina, Monica, and Vanessa have been added! Stefani makes another cameo appearance with Monica.
Video Repost!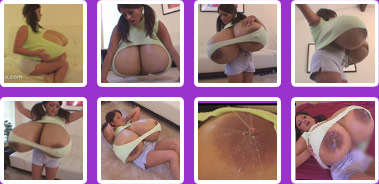 Another classic huge-tit workout vid, this time with Vanessa!



10-06-07 New Video!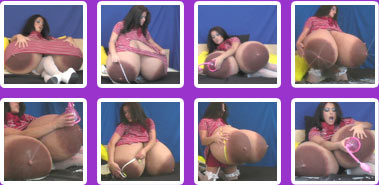 Ever wonder how big Vanessa Volume really is? Well she's curious and wants to know too! While in bed, she pulls out a tape measure from her cleavage and starts measuring her magnificent mammary glands. She lifts up her shirt and gently gets the width and circumference of each ginormous tit. Then, she measures the width of her areolas. After she's satisfied her curiosity, she takes out a nipple pump and starts pumping away! She starts lactating right into the cup of the pump and pretty soon it's a milk-sopping mess!
New Photos!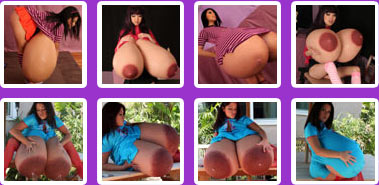 New photos of Monica, Vanessa, and Rina have been added!

09-28-07 New Video!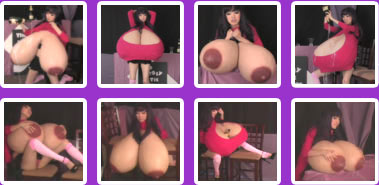 Rina stops by the Jiggly Tit Lounge for a sip of champagne... but instead of drinking, she pours it all over her hot, horny tits! Rina playfully shakes, jostles, flops, claps, swings, and wobbles her udders, giving us an action packed boob-show! At one point the weight of her juggs almost makes her fall on her face... talk about top heavy. For the finale she gets behind the counter and serves us milk! Streams of tit-juice fly in all directions as she squeezes and shakes her chest-rockets like the rambunctious tit-girl that she is.
New Photos!


New photos of Monica, Vanessa, and Rina have been added! This time, Rina has a little boob-bondage fun with Stefani!
Video Repost!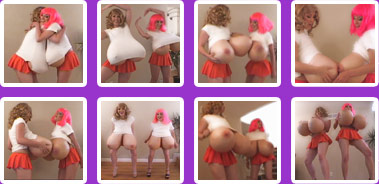 Bianca and Holly practice their cheers, bump hooters and dance together!

09-22-07 New Video Trailer!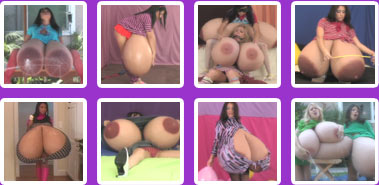 The Biggest of the Big have come together to make one of the most tittyful teases of super-stacked cinema ever caught on film!
Rina Rockets rams her cleavage with a dildo until her rack erupts with dairy excess, tosses her tits to & fro, lactates across a room, bounds & fondles Stefani Stackwell until their hooters have a double-decker tit-orgasm!
Vanessa Volume has a wobbly tit party, measures her juggs, uses a breast pump to induce lactation, takes a jiggly walk outside, and drains her tits on a picnic table as she eye-fucks us with her stare!
Monica Maximum lustfully licks an ice cream cone until she gives into the naughty temptation of smearing it all over her mamms, exercises while her floppers dangle around, walks holding hands with Stefani Stackwell until they take turns licking an ice penis while they both milk like fountains!

09-19-07 New Photo Gallery!



Vanessa's up to more huge hooter antics! Here are some photos of her measuring her tits and using a boob pump to extract milk from her diary domes.
New Photos!



New photos of Rina have been added!


New photos of Monica have also been added! This time, Stefani joins Monica in a game of tetherball and ice penis licking!

Note: Old videos get rotated offline
and can be purchase at radrotica.com