Download classic Mastasia Video clips from radrotica.com! Missed a video clip from your favorite model? You can now download individual video clips without being a member!

03-06-08 New Photos!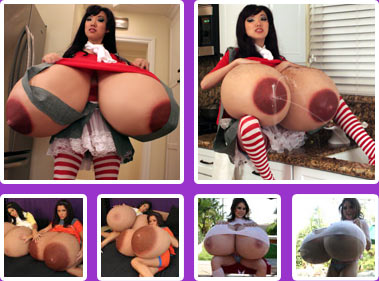 New photos of Rina in sexy striped stockings have been added, as well as photos of Vanessa & Monica in bed and Tiana washing the glass!

03-01-08 New Video!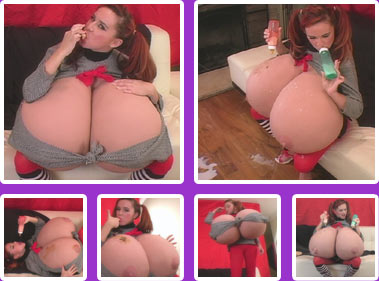 Janeen has a sweet tooth, so she immediately begins gorging herself with cake, cookies and chocolate. She smears the treats on her juggs and sexily licks her fingers while she eyes the camera with a nasty stare. Then she starts sucking down milk from a baby bottle! She lies down, lets the milk trickle into her mouth. Then, her teats start leaking excess milk! She sprays her hooters and continues sucking on a baby bottle as she unloads gallons of cow-juice all over the floor!

02-28-08 New Photos!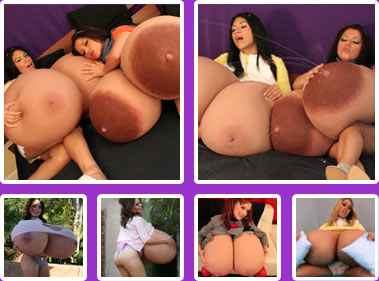 New photos of Monica and Vanessa in bed have been added, as well as photos from our new hootered hottie, Tiana, Janeen, and Stefani!
Video Repost!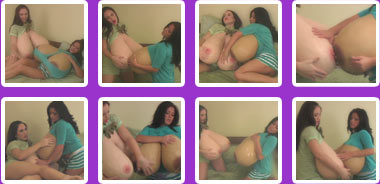 Vanessa seems to be in bed with everyone! She and Holly enjoy some bedtime fun of their own.

02-24-08 New Video!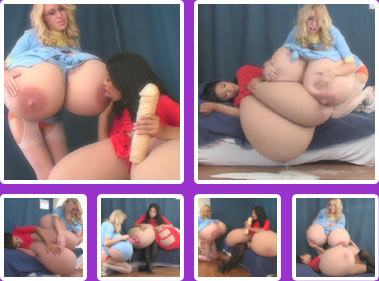 Monica begs Dr. Stackwell that she really wants lots of milk! Stefani (a longtime lactation specialist), inspects Monica's rack and begins treatment with a boob pump! It yields only a few drops, so she attempts to massage the milk out! After that she pulls out a girthy rubber dick, smacks Monica's tit with it and has her lick it! Then Stefani has Monica lick and suck on her nipples! After some more groping Stefani gets on top and aggressively mashes her boobs against Monica's till finally milk gushes out and both girls moan with pleasure till the end!

02-21-08 New Model: Tiana Tankers!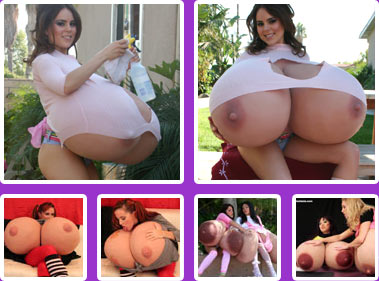 We are proud to introduce Tiana Tankers, a tittyful brunette with a colossal jutting rack that is complimented by her awesome beauty! A photo gallery of her has been opened. Also new photos of Janeen playing with babybottles, Monica, Vanessa, Rina and Stefani.

02-16-08 New Video!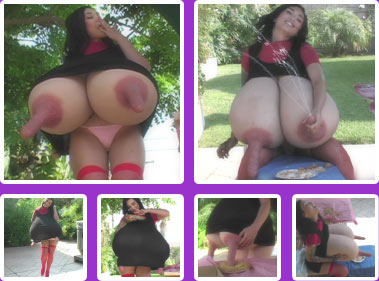 Nikki walks around wearing pink panties and a see-through shirt. Her giant nipples immediately flop out while she sexily struts toward the camera! She finds a freshly baked apple pie that she curiously begins smelling and fingering. The texture of the warm creamy pie makes her naughty side come out and she shakes her nipples in excitement. She pokes, whacks and rubs chunks of the pie on her nipples. The pie turns into a mess of muck and Nikki jacks off both of her udders with the pie residue. Nikki straddles a bench and continues the pie abuse with her flopping, lactating nipples. Finally she grabs a nipple and viciously jerks it off as if it was a cock cumming gallons of milk!

02-13-08 New Photos!



New photos of Janeen, Nikki, Vanessa & Stefani have been added!
Video Repost!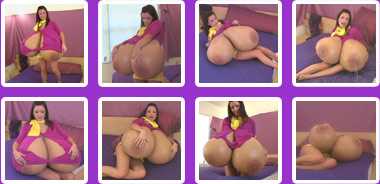 Mindy's enormous sexy tits wobble and lactate in bed!

02-10-08 New Video!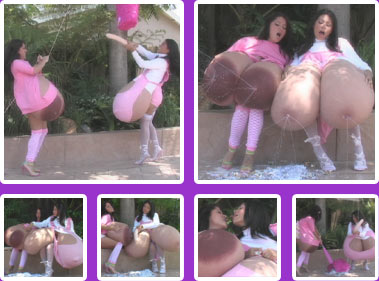 The titanic titters, Monica and Vanessa get together to bash a piñata! They both take turns hitting it, while their pendulous hooters wobble and sway, throwing them off balance! After they smash the piñata open they sit down together buried underneath their massive masses of boobage. They feed each other candy and rub chocolate wads together in their mouths! Then they play with each others giant juggs, groping their copious amounts of tit-flesh! Side by side they mash their boobs together until they both lactate! Vanessa gives Monica a milk shot in the face! They use a dildo on their tits while they continue to milk! Mega Mamms & Milk!

02-05-08 New Photos!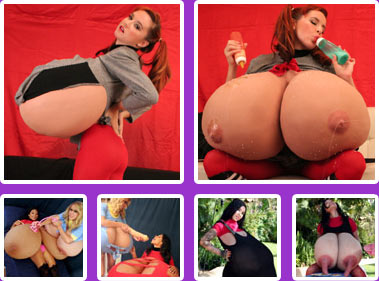 New photos of Janeen have been added, as well as photos of Nikki, Monica & Stefani!

02-02-08 New Video!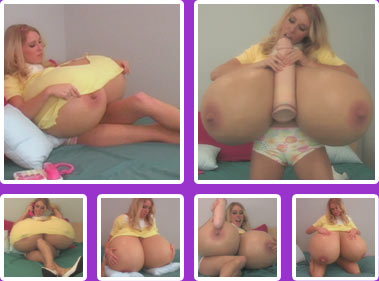 Stefani gets aroused on the phone talking to one of her fuck buddies. She gets frustrated because her lover can't come over, so she takes her sexual angst into her own hands. She caresses and plays with her hooters... bounces, shakes, mashes them against her bed pillows and rubs her nipples! Then she takes out her girthy mega-shlong and has a lengthy kissing and sucking session with it, as if it was her real lover! She rubs her lactating nipples against her rubber cock and tit-fucks her self till she's drained of milk!

01-30-08 New Photos!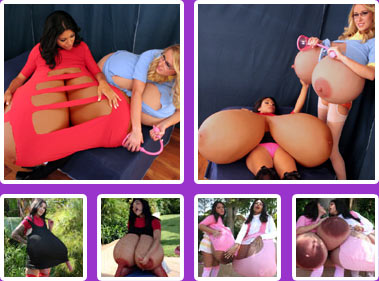 New photos of Monica & Stefani have been added as well as photos of Nikki jacking her enormous nipples off, and Vanessa & Monica eating chocolate with their milk!
Video Repost!

Bianca makes coffee with lots of milk, straight from her tits!

01-27-08 New Video!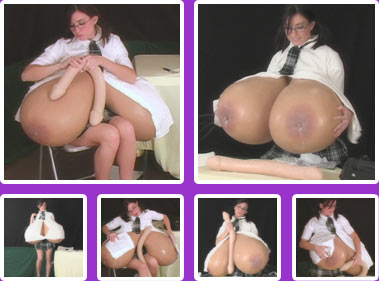 Mindy struts into class with her hooters hoppin! She begins working on her homework but quickly gets frustrated and takes out a rubber dong snake! She bounces up and down on her chair as she smacks her boobies with the dildo! Then she grabs her homework papers and soaks them with multiple milk streams! She rubs the milky paper all over her juggs. She then smashes what's left of her homework on the table with her hefty tits. She rubs her nipples and squeezes the dildo in her cleavage as she lactates uncontrollably!



01-23-08 New Photos!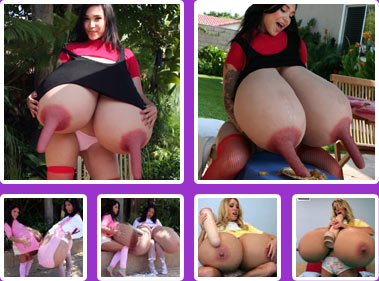 New photos of Nikki have been added as well as photos Monica & Vanessa playing piñata and Stefani in bed!



01-20-08 New Video!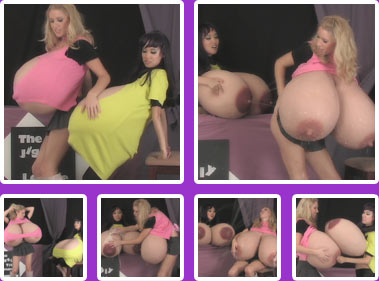 Stefani is dancing by herself when Rina walks in, to check out at some titties. Stefani walks over to Rina and the two girls start dancing, bumping and rubbing their hooters together! They take out their tits and stack them on top of each other as they continue to groove. They also swing them together side by side. Then Rina gets behind the counter to serve some milk martinis! Stefani squeezes and coaxes Rina's milk out, fills up several glasses and pours the warm tit-juice all over both of their naked whoppers! Rina in turn sprays all over Stefani's body taking special aim at her ass! The girls have a torrential milk-orgasm and end with a kiss!

01-16-08 New Photos!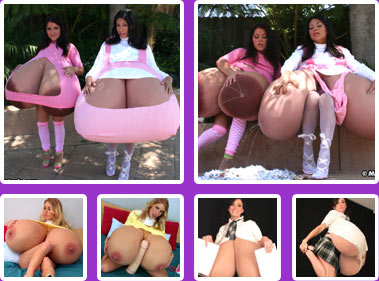 New photos of Vanessa and Monica have been added as well as photos of Stefani and Mindy!
Video Repost!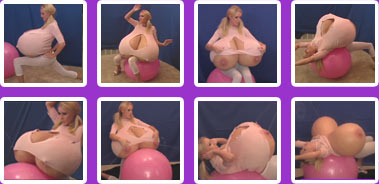 Stefani and her big beach-ball boobs, bounce on a big ball!

01-13-08 New Video!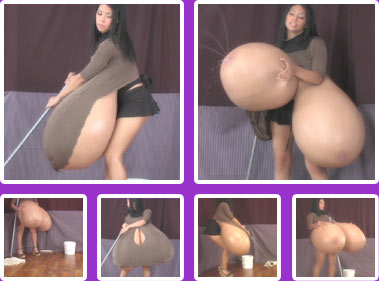 Monica mops the floor while trying to manage her incredible mammaries. She slides the mop back and forth while her enormous torpedoes wobble underneath her tight top. Eventually her twin peaks can't be contained and flop out swinging freely. After a while of naked boob mopping she starts playing with her tits. She puts the mop stick in her cleavage and squeezes her chest puppies together! She gropes her juggs until milk starts flowing out and she squirts all over the hardwood floor! She makes sure the entire floor is covered in puddles of milk and then mops it up!

01-09-08 New Photos!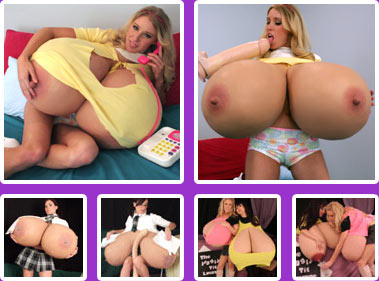 New photos of Stefani in bed have been added as well as photos of Mindy in her school girl uniform and Rina and Stefani at the Jiggly Tit Lounge!

01-05-08 New Video!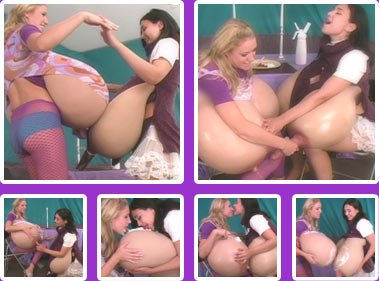 Nikki and Stefani have their very first date! The two girly girls flirtatiously feed each other but Nikki persistently pleads to see Stefani's nipples. Stefani agrees, but only after a dance... so the nymphs go tit-to-tit and bump their boobs together! After that they sit down and play with each others nipples! Then they squirt whipped cream on their boobs, lick it up and smear it between their bosoms! Then Stefani jacks off Nikki's nipples! Nikki returns the favor by smacking her long nipples against Stefani's hooters as she has a lactogasm!

01-02-08 New Photos!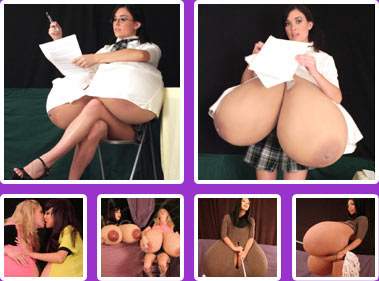 New photos of Mindy in her naughty school girl outfit have been added as well as photos of Monica, Stefani and Rina!
Video Repost!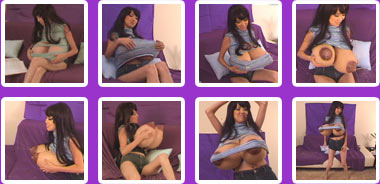 Rina is studying also but moves on to milking and dancing!





12-30-07 New Video!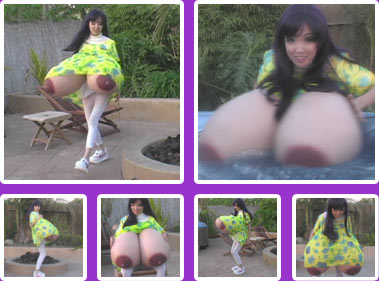 Rina plays her favorite boob wobbling game Hopscotch! She hops back and forth as her giant hooters move wildly under her see thru shirt! Then she skips around the yard in a girly glee. She hops up and down in front of the camera so close her tits take up the entire frame! Then she spanks her naked udders and touches the ground with her nipples. Finally she flops and splashes her boobs around in the jacuzzi! Another great video from the missile-titted Rina Rockets!

12-27-07 New Photos!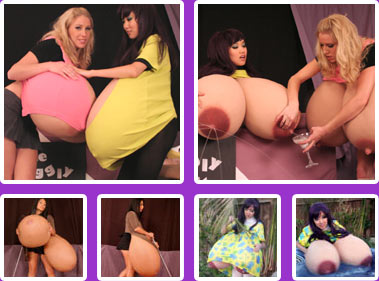 A new gallery of Rina & Stefani has been added as well as photos of Monica of mopping and Rina playing hop-scotch.

12-22-07 New Video!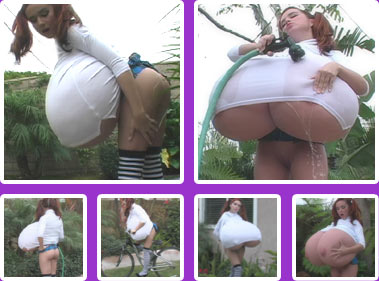 Janeen's debut video is full of tightly clothed tits and pantyless pussy! Janeen starts by walking around which makes her heavy juggs thud up and down. Then she manages to get on a bike and ride around... it's amazing that she is able to even reach the handle bars! Then we find Janeen watering the plants, with her perfect ass exposed! After a few great ass shots and profile views of her ample bosom she thoroughly wets her white T-shirt! Then she plays with juggs by lifting, squeezing and wobbling them around! All this is seen from a low angle where her bare beaver is in plain sight! Woohoo shaved pussy! Finally she peels away her T-shirt and plays with her hooters even more!

12-19-07 New Photos!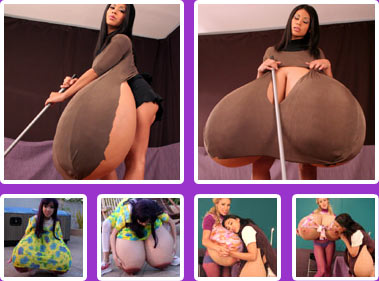 A new gallery of Monica Maximum has been added as well as new photos of Rina, Stefani and Nikki!
Video Repost!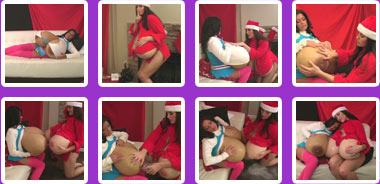 Holly as Cleavage Claus merrily milks Vanessa for X-mas.

12-15-07 New Video!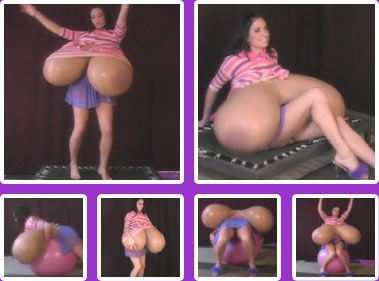 Mindy is back bouncing her big boobs in every way possible! She starts out on a trampoline, intentionally making her tits wobble up and down for her own enjoyment. She out stretches her arms and her juggs flop out of control! While bouncing she mashes her two chest puppies together! Then she sits on the trampoline and bounces on her ass while her tits smack against the trampoline! After that she gets on a big ball where she bounces while sitting and then on her back where her tits fall to her sides and jiggle around. Finally she mounds the ball and humps it like a horny bitch!

12-13-07 New Photos!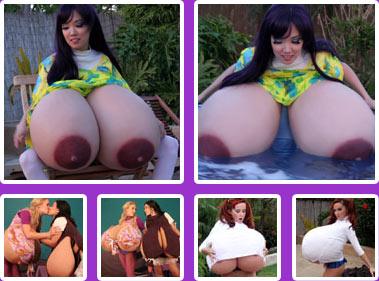 A new gallery of Rina has been added as well as new photos of Janeen, Nikki and Stefani!

12-10-07 New Video Trailer!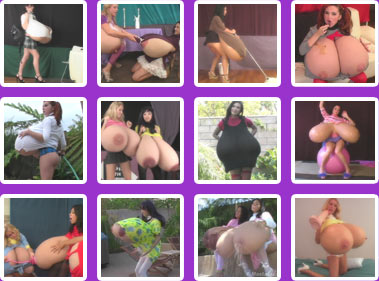 More action, more girls and more tits! This trailer is full of hooters in motion, and milk being squirted everywhere! More models than ever before: Mindy, Stefani, Nikki, Monica, Vanessa, Janeen and Rina! Lots of 2 girl scenes! As always, it's a glimpse at the many videos that are coming up.
Stefani is turning out to be the Mastasia slut... she jacks Nikki's nipples off, dances and milks with Rina, sucks and pumps milk out of Monica's huge hangers... she also has a solo scene where she licks and tit-fucks a dildo. Mindy milks on her homework, plays with an anaconda sized dildo, bounces around on a trampoline and humps an exercise ball. Monica mops the floor with milk, hits a piñata with Vanessa as well as caresses Ms. Volume's tits. Rina plays hop scotch and splashes her tits in the jacuzzi. Nikki gets naughty with an apple pie, walks with her nipples hanging out and jacks her own nipples off! Janeen walks around outside pantyless, wets her tit-filled t-shirt, gropes her juggs, eats chocolate sensually and sucks on a baby bottle! Much more happens but you'll just have to watch and see.

Note: Old videos get rotated offline
and can be purchase at radrotica.com